The second night of the Flamenco Song Contest of 1922 was the one of the downpour, the one immortalized by the cartoonist Antonio López Sancho in his famous collective caricature with singers and organizers covering their heads with their chairs upside down, as did the audience that packed the Plaza de los Aljibes in the Alhambra and that lasted until midnight. The evening, whose chronicle Galerín solves at a stroke, passed "with the same styles and the same lyrics as the previous night" although a little more lackluster: "The artists did not sing so well and the public applauded them less. Neither the old nor the young. None of them did anything".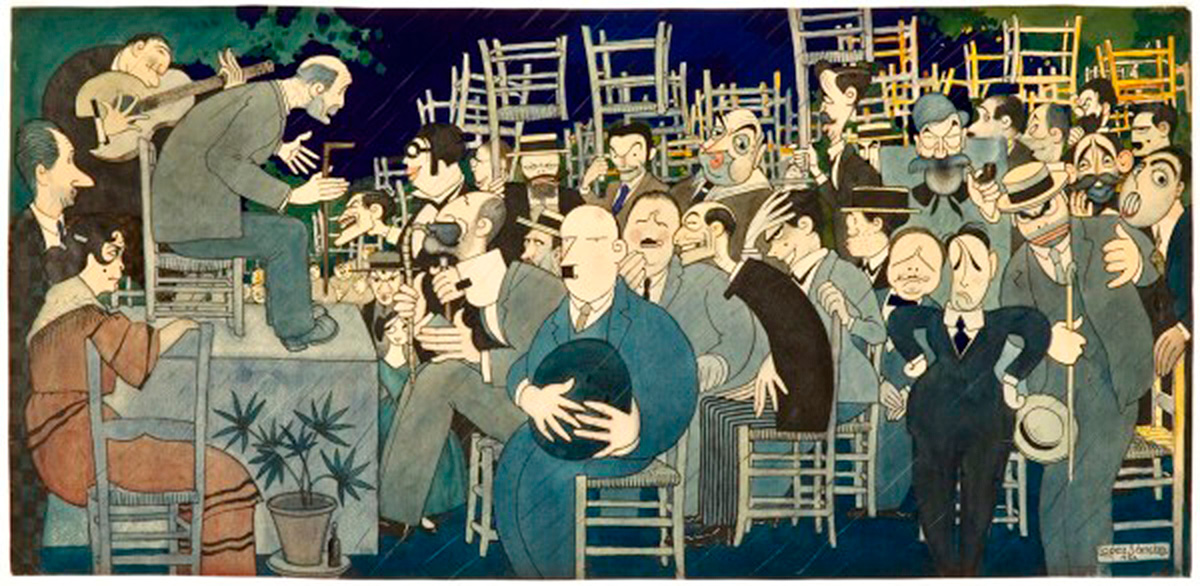 Diego El Tenazas returned but more worn out. He gets on stage, starts to sing, but gets stuck. The lyrics begin: "They buried her…", but El Tenazas either doesn't remember or is trapped in grief and repeats: "They buried her, they buried her, they buried her…". At the end, he remembers and he continues: "La enterraron [They buried her] / en el panteón chiquito [in the small pantheon]/ del desengaño". [Of disillusionment".] Ramón Gómez de la Serna, in the newspaper, gives him a piece of advice: "I would have said more times that magnificent `they buried her' if the audience had not gotten slightly tired and started to murmur. What a prodigious `they buried her'! It had the tone of the bells that toll dead and the irreparable sound of the shovelfuls of earth on the box, a lot of earth because they buried it very deep". Ramón was reminded of the interminable woe, woe, woe…! that he had read in a book of Inquisition records relating "the torments of a poor heretic".
"Now it can be said that the deep song of Spain has been saved," concludes French Hispanist Maurice Legendre in the Noticiero granadino.