Thus, to ensure the success of the first Flamenco Song Contest it was necessary to go out in search of honest and anonymous fans in taverns, neighborhoods, villages and farmhouses. Manuel Ángeles Ortiz and Federico García Lorca formed one of those brigades that went randomly or following some more or less vague clue to the whereabouts of the fans that Falla had imagined to provide the contest. Manuel Ángeles reconstructed that picturesque hunt for singers: "We asked for the old men of the place who knew how to look stylish […]. One of our great discoveries was a little old lady from Granada who sang like the polo angels, the livianas and the old tonás". Once located, she agreed to go up every afternoon to the Falla house, in the Antequeruela, to perform her songs, especially tonás, which the composer tried in vain to catch in the score. "It was very difficult," Ángeles Ortiz recalls, "because the half-tone and the broken tone don't have the pure note."
That legendary and peregrine inquiry achieved another reward when Ángeles and Lorca discovered two singular singers camouflaged in less deep trades (although surely full of artisan depth): Juan Crespo, a hatter by trade, who was "stylized" by soleares, and Rafael Gálvez, a " seguiriyero fisherman" who delighted everyone.
So seriously did they take the inquiries that both tavern inspectors broke into song: "Federico said he sang better than me. And the fact is that we both started singing flamenco in those days of the search. And that's when the controversy about Federico's singing and mine started", joked the painter.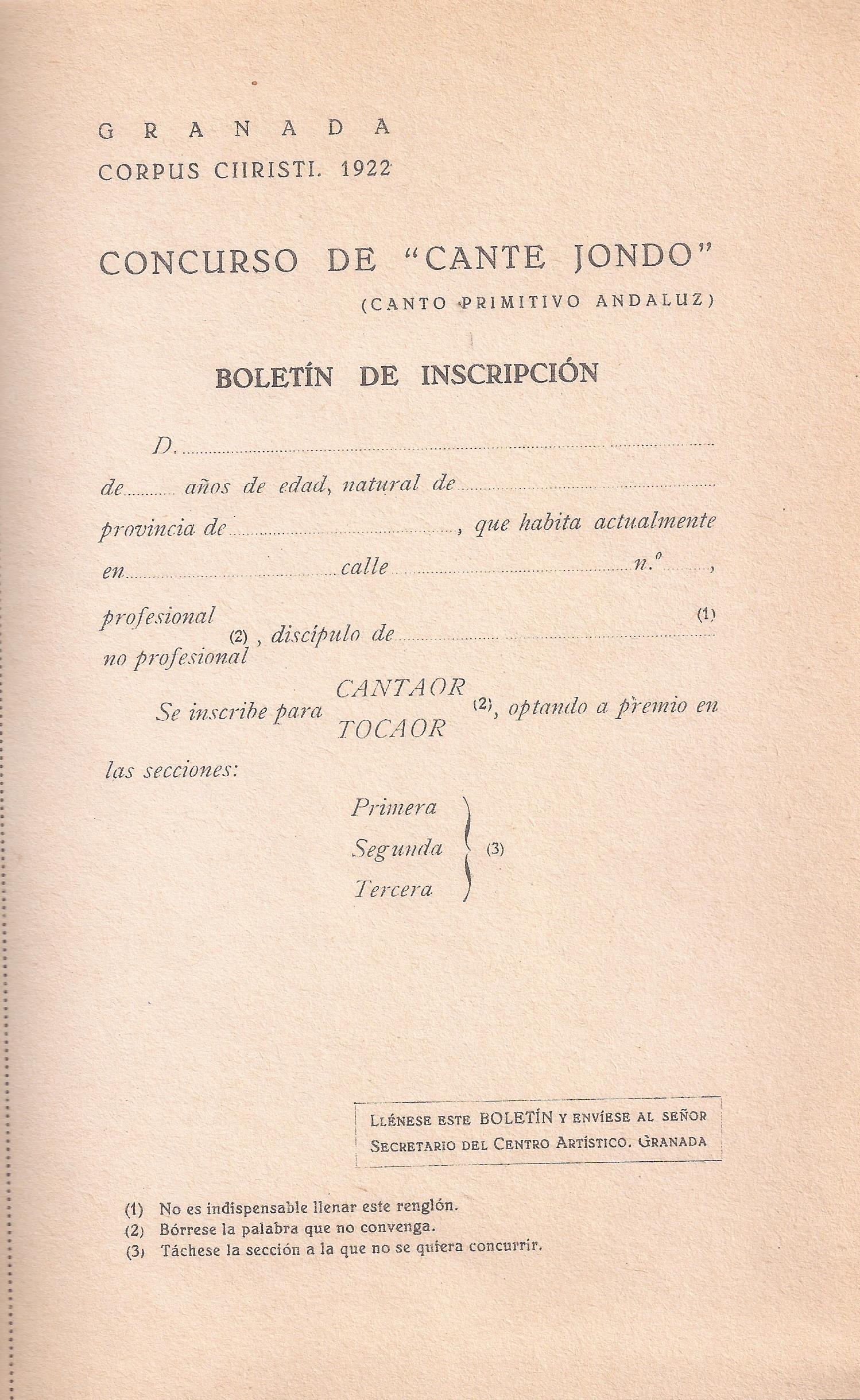 Federico described one of those outings with Ángeles Ortiz: "You arrive at a village where you have been told that one of these prodigious men lives. You wander through the streets and the curtains, half-open, close again as you pass by? Two old men are sitting on a bench. You sit on another. You watch how the sun eats the shadow, and it is possible that you stay there so long that you see that the shadow eats the sun, but there is something that tells you that you should not move… Suddenly, from the throat of one of the old men sprouts a modulation to which the other responds… They sing in dialog, by the basses, for themselves alone […]. The deep song is born, alive, from the broken throats. And his right foot, with a barely audible tapping, marks the beat off beat that is one of the mysteries of the cante grande (big song)".
Many of the candidates ended up in Falla's house. Emilia Llanos recalls the religious recollection with which the composer listened to the singers. Marie Laffranque says he especially admired a boy who sang the martinetes so portentously that after listening to him he lost his appetite.