Federico García Lorca, although he was not a great connoisseur of flamenco but of popular folklore in a broad sense, assumed the theoretical knowledge provided by Manuel de Falla for the lecture he gave on February 19 at the Centro Artístico: Historical and artistic importance of the primitive Andalusian song called "cante jondo" (deep song), later published as a leaflet by the Noticiero granadino. José Mora Guarnido endorses this initial lack of Lorca: "When Falla requested to carry out his great idea of the first Flamenco Song Contest, the poet had only shown towards the gypsy very vague signs of interest". A brief comparison between the writings prepared by the musician from Cádiz and Lorca's lecture reveals the fundamental coincidences. Lorca assumes the distinction between deep song (gypsy seguiriyas, polos, cañas, martinetes…) and flamenco singing. And he regrets, in the same way as Falla, that "it is not possible that the most exciting and profound songs of our mysterious soul are branded as tabernarian and dirty."
Where Falla speaks of the influence of deep song in Russia, Federico points out "how the melancholy of Vela Tower is picked up in the mysterious bells of the Kremlin." Where Falla expands on theories, the young poet summarizes: "El cante… comes from the first cry and the first kiss."
Lorca, as a writer, dwells more than Falla on the lyrics: "The poets who make songs cloud the clear lymphs of the true heart; and how noticeable in the couplets is the sure and ugly rhythm of the man who knows grammar!". "The true poems of deep song", he adds, "belong to no one, they are floating in the wind like golden thistledown[…]. All the poems of deep song are of a magnificent pantheism, they consult the air, the earth, the sea, the moon, things as simple as rosemary, the violet, the bird".
The correspondence between Falla and Lorca opened a debate, still alive, among those who defend whether Lorca was the poet who most deeply captured flamenco or an intruder who let himself be guided by the master. It is indisputable that Lorca indefinitely expanded the literary value of song and wrote three lectures that are part of the classic canon: the one he read at the Centro Artístico in 1922; the one entitled Architecture of the deep song (revised version in 1930 of the original and illustrated with gramophone music) and Game and theory of the elf (1933), written aboard the cruise ship during his trip to Argentina and Uruguay; plus two fundamental books of poetry: the Poem of the Deep Song and Gypsy Ballads, even though he presented the latter as "an anti-painterly, anti-folkloric, anti-flamenco book, where there is neither a single short jacket nor a bullfighter's suit, nor a flat hat, nor a tambourine".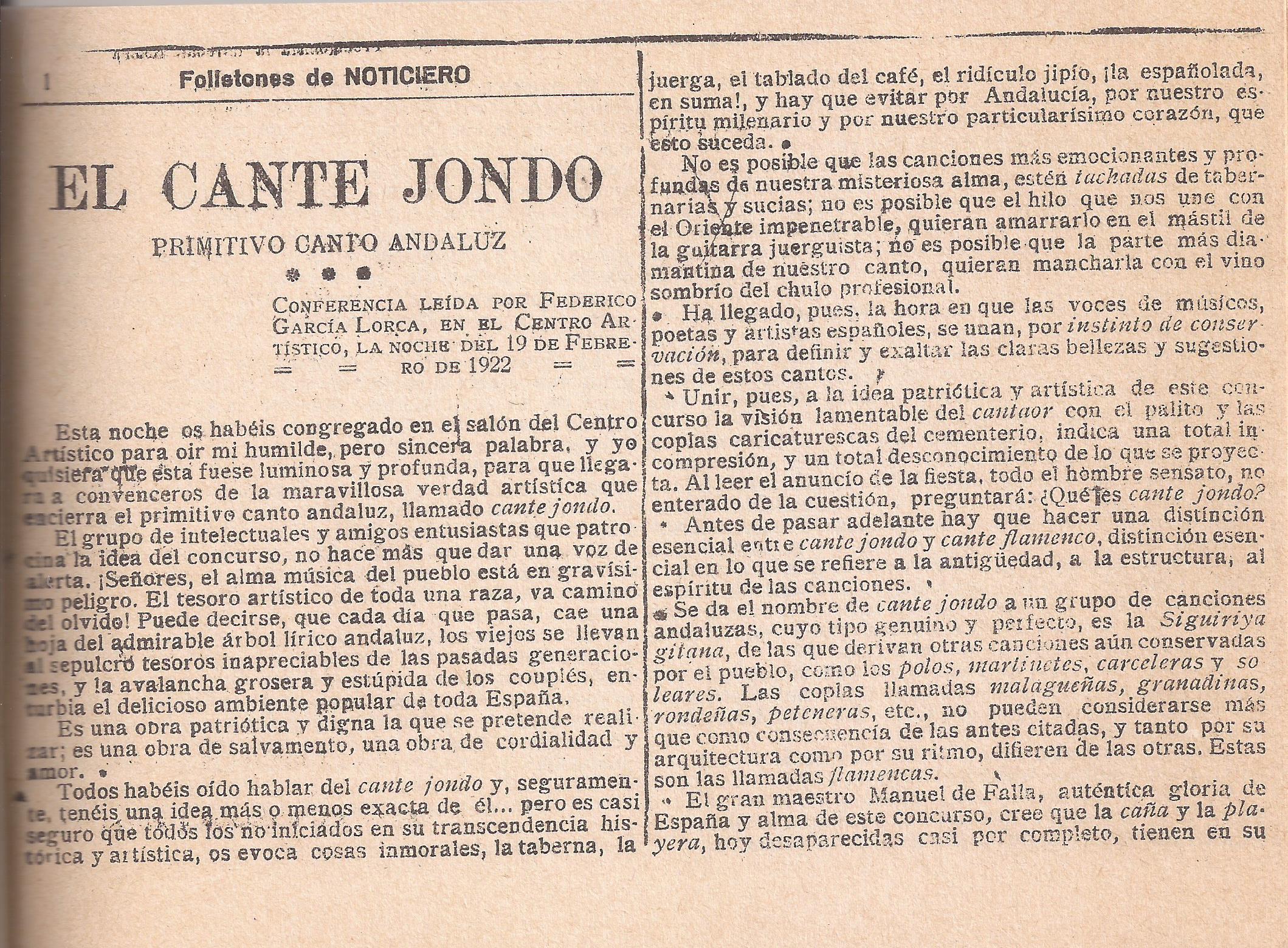 Of the former Lorca said in a letter to Adolfo Salazar: "I bring out in it [in the Poem of the deep song] the old singers and all the fantastic fauna and flora that fill these sublime songs: El Silverio, El Juan Breva, El Loco Mateo, La Parrala, El Filo… and Death! It's a tableau, it's an American puzzle, do you see? The poem begins with a still twilight and through it parade the seguiriya, the soleá, the saeta and the petenera […]. It is the first work of another side of mine".
Also fundamental was his relationship with La Argentinita and his meeting in New York with Sánchez Mejías as a witness, from where the project of recording the disc of Spanish popular songs with Federico at the piano arose.
He was perhaps not a complete amateur, but Isabel García Lorca remembers him in the Huerta de San Vicente (San Vicente Farmhouse) listening to the records of Antonio Chacón, of La Niña de los Peines and of his brother Tomás Pavón. "That 'you have to stay / with the finger pointing, / as St. John stayed' almost made us sick of hearing it so much".