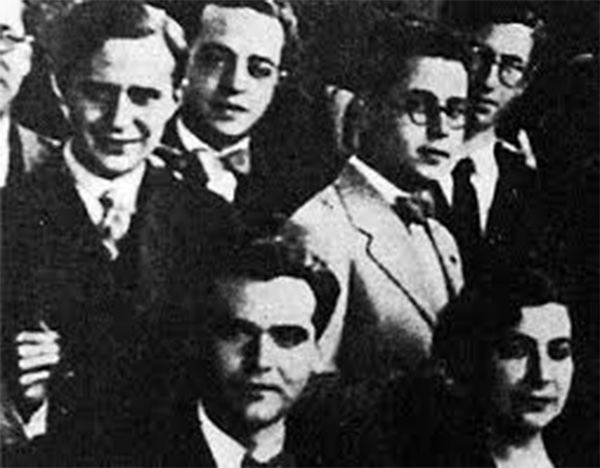 Spanish politician, jurist and university professor. Member of the El Rinconcillo at the Café Alameda in the early twentieth century. In it he met other personalities from the world of culture in Granada such as Francisco and Federico García Lorca, Manuel de Falla, José and Manuel Fernández-Montesinos, Hermenegildo Lanz, Manuel Ángeles Ortiz, etc.
In La Colonia he had to dig the graves of those who had been shot and was even incorporated into a military unit of the rebels with the Falangist uniform.
He graduated in Law at the University of Granada. He completed studies in France and the United Kingdom and in 1926 he received his doctorate at the Central University of Madrid. Following a competitive examination, he was awarded a chair of Administrative Law. He suffered the repression of the Primo de Rivera dictatorship. From Madrid he moved to the University of Salamanca, combining his work with that of magistrate in the Provincial Court. Later, he exchanged this position for one at the University of Granada.
After the military uprising of 1936, he was arrested and accused of hiding weapons in the Town Hall. Aware of the danger to his life, he wrote an appeal letter to Captain José Nestares Cuéllar in which he disavowed his ideas and friendships and expressed his willingness to fight with Franco's side. He was released and put in charge of Nestares himself, who was in charge of a military unit in Víznar. There he was sent to La Colonia, an old mill transformed into a place for school vacations and then into a prison for those condemned to death. There he was humiliated by Nestares forcing him to wear an apron identifying him as a member of Freemasonry. He had to dig the graves of the executed and was even incorporated into a military unit of the rebels with the Falangist uniform.
During a religious act he was denounced by a lieutenant colonel who complained that he was still alive. Under a dilusion, he was transferred to Granada where he was subjected to a summary trial and shot in the cemetery along with 37 other prisoners.