Daughter of Fernando de los Ríos Urruti (professor of Political Law in Granada, socialist politician and teacher, friend and protector of Federico García Lorca, as well as Minister of Education and Public Instruction during the Second Republic) and Gloria Giner de los Ríos García (teacher of Geography and History at the Normal School and before that at the Institución Libre de Enseñanza (Free Teaching Institution)). She was born in 1913 surrounded by the circle of intellectuals and artists with whom her parents were associated (she played piano together with Manuel de Falla), although she also had to suffer the rejection of the most conservative class in Granada due to her family's ideology.
From an early age she was an inseparable friend of Isabel García Lorca; both shared many games with Federico and were the voices in the puppet show on Three Kings Day in 1923. One of the poems in Songs is dedicated to her. Laura did not attend any school but was educated at home by her mother, together with Isabel García Lorca.
In 1931, the family moved to Madrid when Fernando de los Ríos, who had just been awarded the professorship, was appointed Minister of Justice and later Minister of Public Instruction by the government of the Republic. Her mother continued to work as a teacher and moved to Zamora.
Since she was a child, she was Isabel García Lorca's inseparable friend; they shared many games with Federico and were the voices in the puppet show on Three Kings Day in 1923.
In 1936, when the war broke out, Laura and Isabel had finished their studies in Philosophy and Arts and were preparing at the Girls' Residence for a professorship at a high school in Granada. With the defeat of the Republican cause, their exile began, first to Paris (Fernando was transferred to the Spanish embassy in Paris) and then to Washington. In New York she wrote her doctoral thesis on Clarín and published it in the Occidente magazine. In the United States Laura taught at various American universities and there she carried out her work as a writer, intellectual and artist. During her exile in the United States, the De los Ríos and García Lorca families continued to share their life stories and friendship. In 1942, at the age of 29, she married Francisco García Lorca. They had three daughters, born in New York: Gloria (1945), Isabel (1947) and Laura (1954).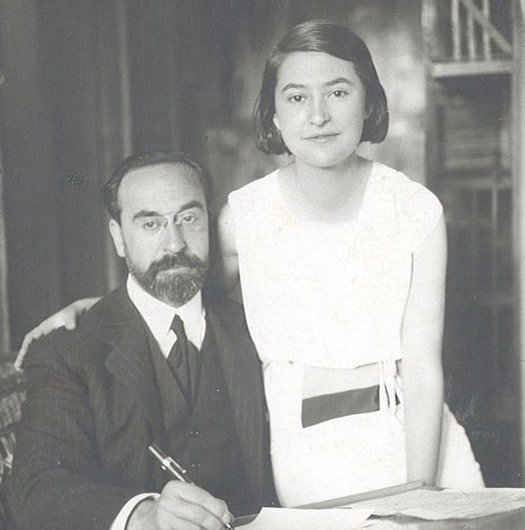 In 1965, she returned to Spain with her family, continuing her cultural activity. She had directed the summer school at Middlebury College together with Francisco García Lorca, and there she followed the line of the Institución Libre de Enseñanza. On her return to Spain, she again sought to promote this institution through the Giner de los Ríos Association. After her husband's death, she was also responsible for preparing his work for publication.
She died in Madrid on December 14, 1981, aged 68, and was buried next to her father, Fernando de los Ríos, and her mother, Gloria Giner, in the city's civil cemetery.
"Since her laughter on the pier in Brooklyn, when I had just arrived in the United States as a child, my whole life had been spent under the shelter of her warmth and joy. Her death was like being orphaned again," writes her nephew Manuel Fernández-Montesinos. Laura de los Ríos left a trail of admiration and gratitude in all those who knew her. The testimonies prove it.