Location of the no longer existing original home of Antonio Segura Mesa, Federico's music teacher to whom he dedicated his first book.
Antonio Segura Mesa (Granada 1842-1916), Federico García Lorca's music teacher and one of the most influential people in his youthful artistic training, to whom he dedicated his first book, Impressions and Landscapes, was a modest composer of little recognition who taught the poet in his house in Escudo del Carmen since the Lorca family settled in Granada in 1908 in the house on Acera del Casino.
Segura, unlike other contemporary creators, never left Granada. Two other famous students also passed through his house, the guitarist and composer Ángel Barrios (1882-1964) and Francisco Alonso (1887-1948), author of still popular works such as the passacaglia Los Nardos or the chotis Pichi, both from Las Leandras.  The original house was demolished and rebuilt. He was also a teacher of Rafael Salguero, first director of the Conservatory of Granada, and of José Montero, founder of the Municipal Band.
Segura's teaching gave Lorca an encounter with cultured music. From him he received lessons in Harmony and Composition. But he also told him about the lives, loves, sorrows and miseries of the great artists.
When, in 1915 or 1916, García Lorca began to approach the young creators of the tertulia of El Rinconcillo, introduced himself as a musician; he was the only aspiring piano player and composer in the group. In fact, one of the reasons for his poor aptitude for study was his inordinate fondness for music. Before arriving in Granada, in Fuente Vaqueros and Valderrubio, the songs and children's games and the compositions of the popular ballads were his first and main way of learning within a family very gifted for music.
According to Francisco García Lorca, who also received lessons along with his sister Concha when they settled in Granada, the musical talent came from the family, specifically from one of his grandfathers, and in it there were cases of "no ordinary" ability.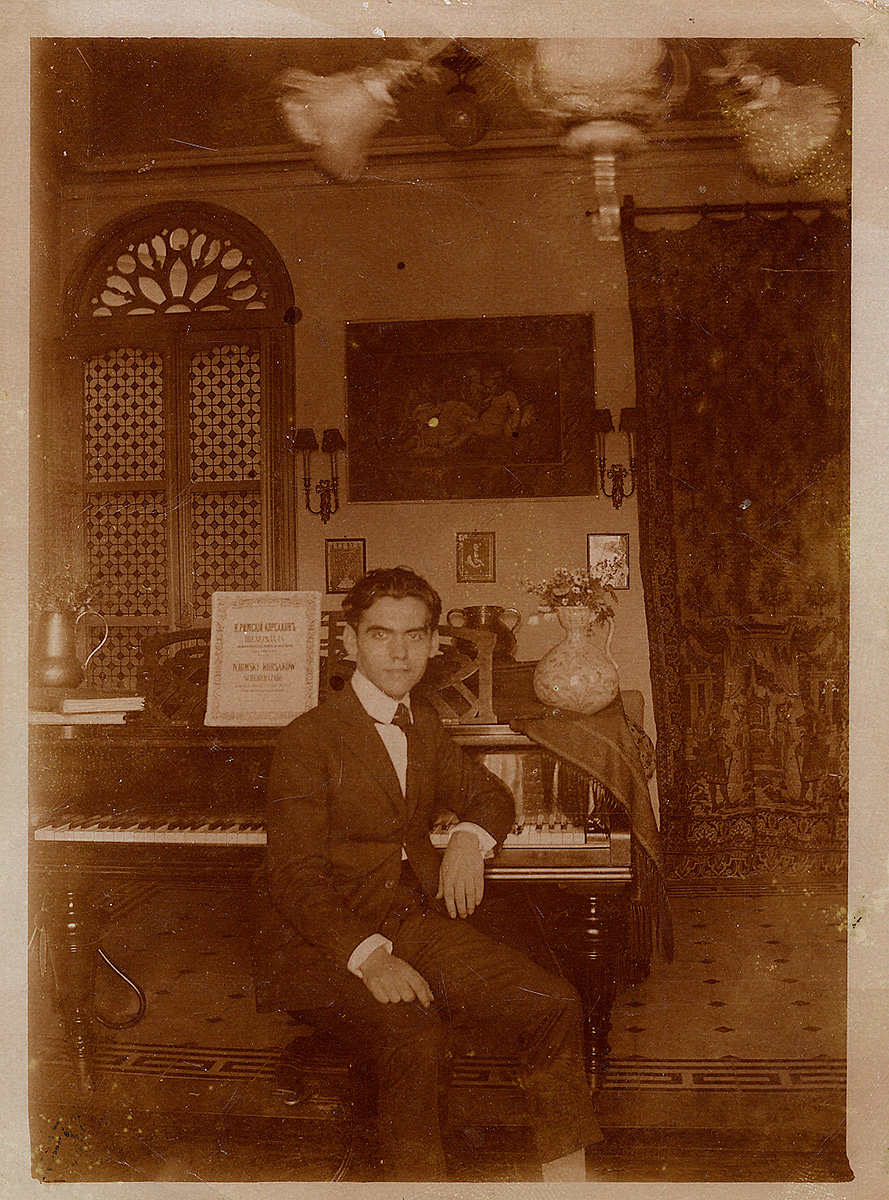 Segura's teaching gave Lorca an encounter with cultured music. From him he received lessons in Harmony and Composition.
José Mora Guarnido describes Segura as an "old composer of unpublished operas and failed artist" but who discovered Lorca's "admirable native conditions". His lessons were not only technical, but extended to other enticements of musical life. "I would tell him about the lives, loves, sorrows and miseries of the great artists during times of hope," Mora recalls.
"The fact that I have not reached the clouds," he would tell him, "does not mean that the clouds do not exist." The phrase, according to friends of El Rinconcillo, Federico used to repeat with "religious emotion."
The poet used to emphasize that Segura was a good disciple of Verdi and that he had composed a "colossal opera, The Daughters of Amapolo, which was taken apart with verve". The score, however, has not been preserved.
Segura also composed a zarzuela in two acts entitled The Vinegar Mayor, with a libretto by Joaquín Afán de Ribera and had a close friendship with the Iitialian baritone Giorgio Ronconi, famous for his interpretations of Verdi and Donizetti to the point of both creating a singing conservatory.
Federico dedicated his first book, Impressions and Landscapes, to his music teacher Antonio Segura Mesa (who died in 1916) and not to his professor of Theory of Literature and the Arts, Martín Domínguez Berrueta, with whom he had traveled twice on study trips to various Spanish provinces that inspired the volume, which appeared in 1918.
The text of the dedication is very moving and reflects the admiration he felt for him: "To the revered memory of my old music teacher, who passed his sarmentary hands, which had plucked pianos and written rhythms on the air, through his twilight silver hair, with the air of a gallant lover and who suffered from ancient passions to the spell of one of Beethoven's sonatas. He was a saint!".
Lorca went on the first of the trips that inspired him to write Impressions and Landscapes only two months after the death of Antonio Segura. His death may have had a decisive influence on his choice to express his feelings about the landscape in writing and not in a score.
The change from musician to writer did not mean the abandonment of his first vocation. Popular music through composition or harmonization were an obligatory complement to much of his work, poems with titles such as Songs or Suites, and plays.
Federico took care of the choral songs of Blood Wedding, or that of the Washerwomen, the Shepherd's Song and the bacchanal of the pilgrimage of Yerma, or the couplets of the reapers of The House of Bernarda Alba. In his Complete Works there are also several scores.
From the tertulia of El Rinconcillo, and thanks to his close friendship with Falla, he sponsored the Flamenco Song Contest of 1922 in the Plaza de los Aljibes in Granada.
Lorca, a great connoisseur of popular music, recorded with La Argentinita a version of the Popular Spanish Songs and tried to convince Manuel de Falla to write a Granada songbook whose imminent appearance was even announced in one of the issues of the magazine gallo. Photos of Lorca at the piano, both those of his youth and those taken in the San Vicente Farmhouse in 1935 by his friend Eduardo Blanco-Amor, characterize his musical vocation. At the end of his life, during the seven days of August 1936 that he spent in the house of the Rosales family, the piano and reading were his only refuges.
Music is in itself passion and vagueness.
With words, human things are said; with music, that which no one knows or can define, but which exists in everyone to a greater or lesser extent, is expressed. Music is art by nature. It could be said that it is the eternal field of ideas…
To be able to speak of it, one needs a great spiritual preparation and, above all, to be intimately united to its secrets. No one, with words, will express a heartbreaking passion as Beethoven did in his Appassionata; we will never see the souls of women that Chopin expressed to us in his Nocturnes….
To feel it, it is necessary to possess a crazy and nervous imagination, and it can almost be affirmed that, once the formidable dragon of its technique has been defeated, the one who has fantasy and passion inside speaks with it unconsciously (…).
There are ideas in men so grandiose that they do not admit the compass mold; and if they vary it and break it with love, with fire, just as they feel it, if with that they have expressed a rare thought, it must be considered well done; and if we feel it in their pain, we have to affirm its enormous expression and, therefore, how enormously artistic it is…
And we must also think that in music, where so much pain is expressed that it leaps above all things and will produce rare inharmonic and harmonic alterations…But what could be more deranged than pain?
(Rambling. The Rules of Music.)
José Miguel Barberá Soler. One Hundred Years after the Death of the Musician Antonio Segura Mesa (1842-1916). Ideal newspaper, July 11, 2016.
Francisco García Lorca. Federico and his World. Alianza Tres. Madrid, 1990.
Ian Gibson. Federico García Lorca. Biography. Grijalbo, Bacelona, 1985.
José Mora Guarnido. Federico García Lorca and his World. Losada. Buenos Aires, 1958.
Lorca´s location

Antonio Segura's House

current location

Escudo del Carmen, 6

ADDRESS

Escudo del Carmen, 6

DETAILS OF THE VISIT

The house that was the residence of Antonio Segura, Lorca's music teacher, is a private residential building. Only the exterior can be seen.