La Casa de Bernarda Alba (The House of Bernarda Alba) is entirely inspired by this village in the Vega of Granada, Asquerosa (Disgusting) (currently, Valderrubio). Although the inhabitants changed the unpleasant name (Federico preferred to use Vega de Zujaira to locate his writings), this has nothing to do with the etymology of 'asqueroso', but derives from acqua rosa.
Lorca collects in his drama the way its people speak, their idioms, their customs (the long mourning, the surveillance of the neighbors, the scandals that occurred for sexual matters, the arrival of the reapers in summer, the heat…). This work shows and denounces the conditions that still existed in the Spanish countryside, and the power and abuse of the landowners. (the Federico's father was the only one who had a different way of doing things, more supportive and more humane, in fact, in the village there is still a street named after him, Don Federico), the prevailing depotism…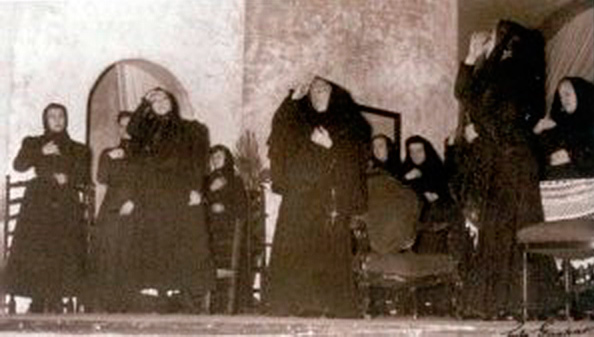 In the end, when Adela breaks Bernarda's cane, it becomes a truly revolutionary moment. Adela rejects a code of honor based on keeping up appearances and the belief that men are superior to women; she claims her sexual freedom and the search for love as salvation above any social norm or any authority.