Painter, photographer and book illustrator, linked to the Generation of '27, many of whose members he dealt with before and after the Civil War, he was born in Valdepeñas on May 2, 1897, and died in the same city, at the age of 95, on November 14, 1992. Prieto was linked to the avant-garde movements of the 20th century, such as cubism and futurism. In 1945, during his exile in London, together with the writers Carlos Edmundo de Ory, Eduardo Chicharro Briones and Silvano Sernesi, he launched postism, which aspired to be the "synthesis of all the literary avant-gardes".
Despite his father's opposition, Prieto – an adolescent who drew in secret – managed at the age of 18 to be admitted to the San Fernando Academy of Fine Arts, which allowed him to win several scholarships and present his first exhibition at the Madrid Athenaeum. In this city he befriended some of the most important representatives of the Generation of '27 with whom he forged a relationship that lasted until his expatriate years in London. Rafael Alberti and Luis Cernuda were his first two contacts. In 1924, he met Federico García Lorca and Vicente Aleixandre.
His return to Spain after the Civil War launched a decisive period full of work: he wrote articles, exhibited repeatedly and illustrated a hundred books by John Milton, Shakespeare and García Lorca, among others.
"Only the mystery makes us live, only the mystery". This is how one of the letters Federico wrote to Prieto at the beginning of their friendship started. "Dear friend: from this fertile vega of Granada I send you my most sincere remembrance. I am surrounded by poplars and clear and transparent sky", Lorca writes from Asquerosa (Disgusting), a name that Federico changes in the letter to Apeadero de San Pascual, a small railroad station of which some ruins remain.
The correspondence includes a curious letter signed and written by eight hands and dated in Madrid on October 10, 1931, which gives an idea of Prieto's strong friendship with the Generation of '27: "My dear Gregorio! We are at Vicente's house with Federico and Ernesto. We remember you with much affection" (Manuel Altolaguirre). "Dearest Gregorio: May this card serve as notarial proof of the affection, loyalty and admiration I have for you. A very big hug from Federico [García Lorca]." Vicente Aleixandre adds: "I hope you never again give credit to bad language". The letter also contains words of greeting from Ernesto Giménez Caballero, editor of La Gaceta Literaria, and Vicente Aleixandre.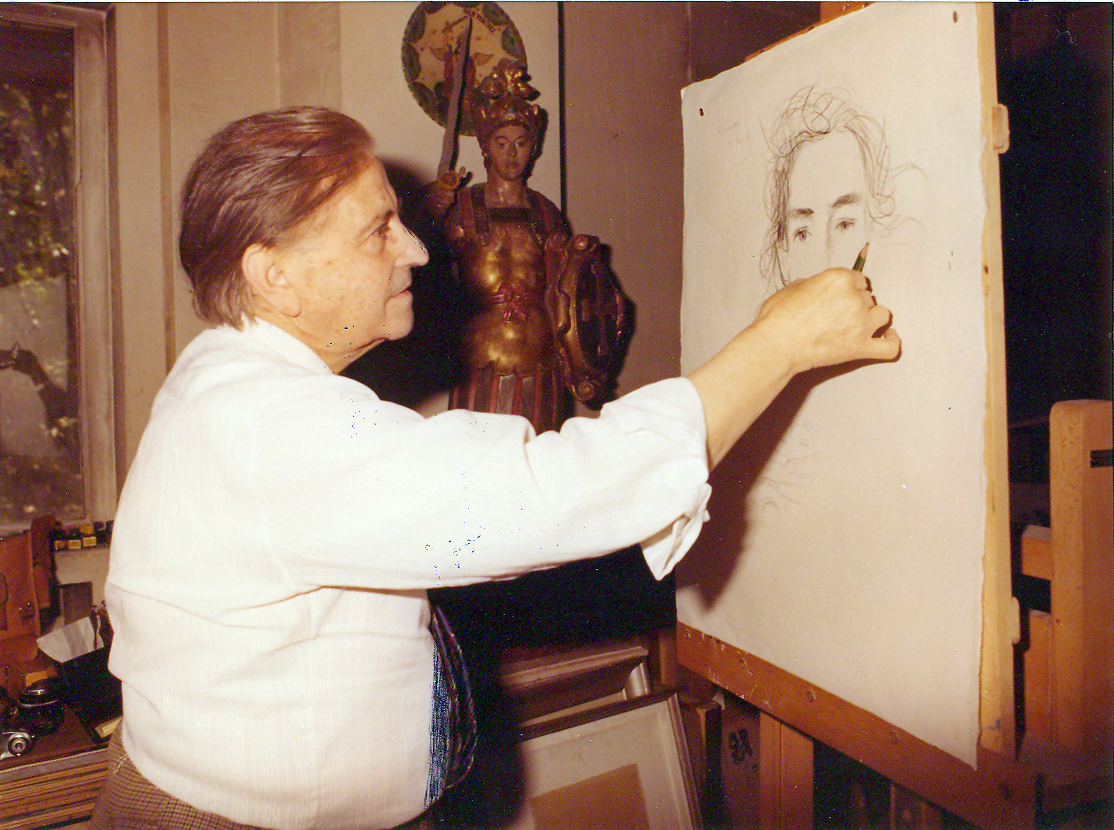 In 1925, Prieto had continued his studies in Paris, which facilitated his contact with the surrealists. A year later he participated in the Venice Biennale, an experience that opened the doors to Italy. After traveling through Italy, Greece and Egypt, his works were populated by sailors and mannequins of homosexual iconography.
In 1928, he obtained a scholarship at the Spanish Academy in Rome. His friendships in those years were with artists such as Giorgio de Chirico, Filipo Marinetti and Alberto Moravia. At the Academy in Rome, in the thirties, he met Valle-Inclán. It was not an easy relationship. Valle-Inclán accused Prieto and his friends, also on scholarship, of having appropriated the Academy and remained there despite the fact that the time of stay had already expired. Both of them pleaded with the republican authorities. Valle, bitter, failed to fulfill his academic commitments and fled to Madrid waiting for the government to authorize him to leave Rome.
The Civil War prompted him to leave Spain and take refuge in London where he lived with Luis Cernuda. His return to Spain launched a decisive period full of work: he wrote articles, exhibited repeatedly and illustrated a hundred books by John Milton, Shakespeare and García Lorca, among others.
In the last stage of his life he received the gold medal of Fine Arts and the appointment as honorary academician of the Royal Academy of Fine Arts of San Fernando.
In 1968, the Gregorio Prieto Foundation, on which the museum depends, was established in Valdepeñas. It was inaugurated in 1990, two years before his death.