Spanish writer belonging to the Generation of 1936. He was born in Orihuela (Alicante) in October 1910 into a family of seven siblings of which only four survived. His father was dedicated to the breeding and sale of cattle, a business in which Miguel had to help until he went to Madrid, hence his nickname "shepherd poet". He attended classes at the Santo Domingo School in Orihuela, a Jesuit high school. In 1925, he stopped studying to devote himself to shepherding, although he had the personal library of Canon Luis Almarcha Hernández, which allowed him to become acquainted with the classics. He formed a literary group around the bakery of his friend Carlos Fenoll, attended by José Marín Gutiérrez, among others, who signed with the pseudonym of Ramón Sijé and to whom years later Hernández dedicated his Elegy. Soon he bought a second-hand typewriter with which he went up the mountain to watch his goats.
Lorca and Hernández never hit it off. From an exchange of letters, Hernández was disappointed and Federico possibly did not understand that this young man who seemed so vain and demanding was just a passionate fighter, who was in a hurry because he had no livelihood to support him to be able to wait.
In 1931, he received the only literary prize of his life. It was awarded by the Orfeón Ilicitano Artistic Society for the poem Song to Valencia. He had begun to publish in local magazines and newspapers and at the end of the year he travels to Madrid and meets many of the poets of the Generation of '27.
During 1932, Miguel makes continuous trips to Murcia to the home of journalist Raimundo de los Reyes to correct the proofs of his book Moon Expert. At De los Reyes' house, at the age of 22, he meets García Lorca, who was on tour with La Barraca. Miguel recites some compositions of his work and Federico expresses his admiration for the poems and promises to promote it in Madrid. However, when the book appears, Hernández finds that no one, not even Lorca, dedicates a review to it. Miguel feels betrayed and writes a series of letters to Federico, who responds with encouragement and advice to keep working and not succumb to vanity, as seems to have happened in their first meeting. Lorca and Hernández never hit it off. Possibly from the exchange of letters, Hernández felt disappointed and Federico did not understand that this young man who seemed so vain and demanding was just a passionate fighter, who was in a hurry because he had no livelihood to support to be able to wait.
Federico always avoided meeting Miguel whenever he could, although they certainly met up in some cultural events such as the tribute to the painter Hernando Viñes, in 1936. In the photograph that immortalized that moment, the two of them can be seen standing in line. When Lorca was assassinated, Hernández composed a beautiful and heartfelt elegy in Wind from the Town (1937).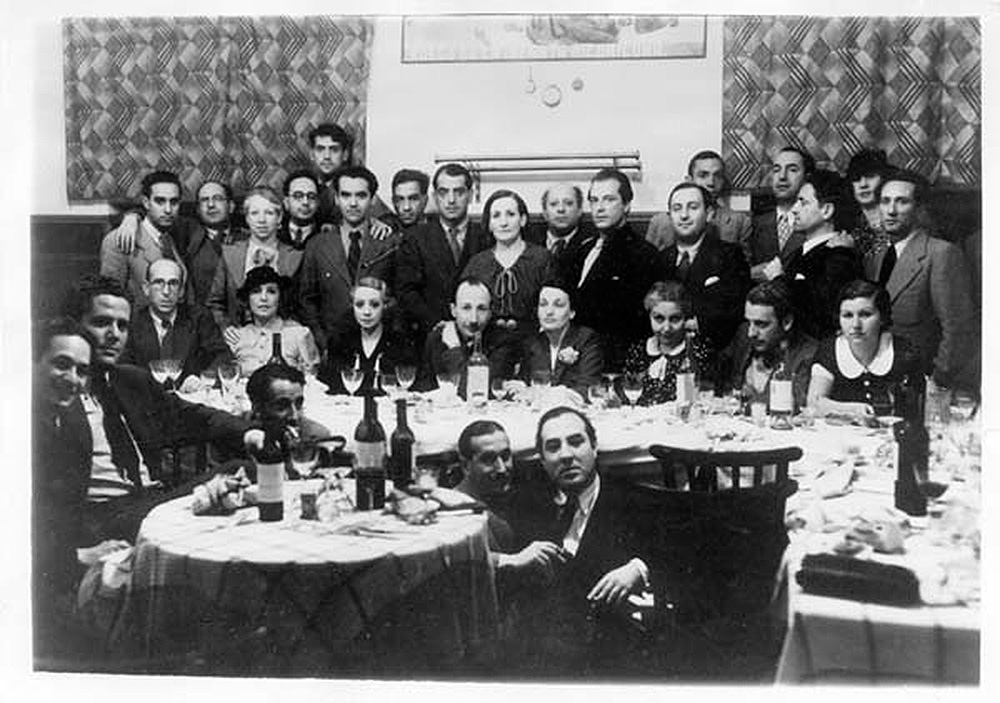 In 1934, he published in Cruz y Raya his auto sacramental Who has seen you and who sees you and a shadow of your former self, participated in the Pedagogical Missions and found work as an editor in the bullfighting encyclopedia of José María de Cossío. He collaborates assiduously in the Occidente magazine and meets Maruja Mallo with whom he maintains a relationship. During this time he wrote The Ray that does not Stop. He made a special friendship with Vicente Aleixandre that lasted throughout his life, as well as with Pablo Neruda. He returns to his hometown in summer and formalizes his relationship with Josefina Manresa. In 1935, Ramón Sijé dies and Hernández writes an Elegy that arouses the interest and admiration of Juan Ramón Jiménez.
The Civil War surprised him in Orihuela and he enlisted on the Republican side. He joined the PCE and became a political commissar. He was on several fronts and wrote texts and poems to encourage the soldiers at the front. In March he marries Josefina Manresa and they leave for the Jaen front. He attends the 2nd International Congress of Writers for the Defense of Culture in Valencia. He participates in the Soviet Union in the 5th Festival of Soviet Theater on behalf of the Republic. Published Wind from the Town, Theater in War Time and The Farmer of More Air.  His first son died a few months after birth, in 1938. In January 1939, his second son, Manuel Miguel, was born, to whom he dedicated the Lullaby of the Onion which was the only food on which mother and son survived.
In Madrid he was tried and sentenced to death in 1940. Later, his sentence is commuted to 30 years in prison, where his lung disease is complicated by tuberculosis. The authorities do not allow his transfer to a hospital. He died in prison in Alicante and was buried in 1942 at the age of 31.
When the war ended, despite Cossío's offer to go to Tudanca or the request for asylum for him at the Chilean embassy, he insisted on returning to Orihuela. Seeing the risk he was running, he decided to cross the Portuguese border with the bad luck that when he had passed, the Portuguese police arrested him (they thought he was a thief because of the gold watch he was wearing, a wedding gift Aleixandre had given him) and sent him back to the Spanish border. Here he began his pilgrimage through Franco's prisons. He was sent to Seville prison and from there to the prison on Torrijos Street in Madrid. Perhaps thanks to the efforts of Neruda or Cossío, he was released in September 1939, but back in Orihuela he was betrayed and arrested. In Madrid he was tried and sentenced to death in 1940. Later, his sentence was commuted to 30 years in prison. He was transferred to the prisons of Palencia and Ocaña. In 1941, he was sent to the Reformatory for Adults in Alicante. His lung disease worsens and becomes complicated with tuberculosis. The competent authorities did not allow him to be transferred to a hospital. He died in the infirmary of the Alicante prison and was buried in Alicante in 1942 at the age of 31.