House-museum located in the place in Fuente Vaqueros where Federico García Lorca was born in 1898 and where he spent his first years before moving to Valderrubio.
Federico García Lorca came into the world in the house at number 4 Trinidad Street in Fuente Vaqueros (today Federico García Lorca Street) at "twelve o'clock at night" on June 5, 1898 and was baptized six days later with the name of Federico del Sagrado Corazón de Jesús (Federico of the Sacred Heart of Jesus).
His parents were Federico García Rodríguez, a wealthy farmer and owner of numerous lands in the Vega, who had been widowed by his first wife, Matilde Palacios, a few years earlier, and Vicenta Lorca Romero, a teacher assigned to the school of Fuente Vaqueros in 1893, a year after obtaining her degree. Vicenta arrived in the town accompanied by her mother, who died a few months later.
The couple remained in the house on Trinidad Street for only a few years. In 1901, they moved to Iglesia street where the family resided until their move, in 1906, to the neighboring village of Asquerosa (Disgusting) (Valderrubio) where business demanded the presence of Federico García Rodríguez. The nucleus of the García Lorca family expanded rapidly. After Federico came Luis, who did not survive; Francisco (1902), Concha (1903) and years later, in 1909, already installed in the Granada apartment, Isabel.
His interests were puppets and music. His favorite game consisted of saying mass. He would sit his brother Francisco and other children down and, covered himself with woven fabric gowns, he would 'officiate' the mass on one condition: that the audience would burst into tears during the sermon.
The García Lorca Birthplace Museum was inaugurated on July 29, 1986 on the 50th anniversary of his shooting. The house was acquired in 1982 by the Diputación de Granada and rebuilt under the supervision of Isabel García Lorca. It was the first museum dedicated to the poet in Granada.
Subsequently, in 1998, on the occasion of the centenary of the birth, the Federico García Lorca Research Center was opened in the building of the old schools, to store and make available to investigators the important archive on Lorca indicating purchases and donations. The poet Juan de Loxa was the first director of the House-Museum and the driving force behind the Research Center, the continuous cultural activities dedicated to Federico and the donations from friends and colleagues.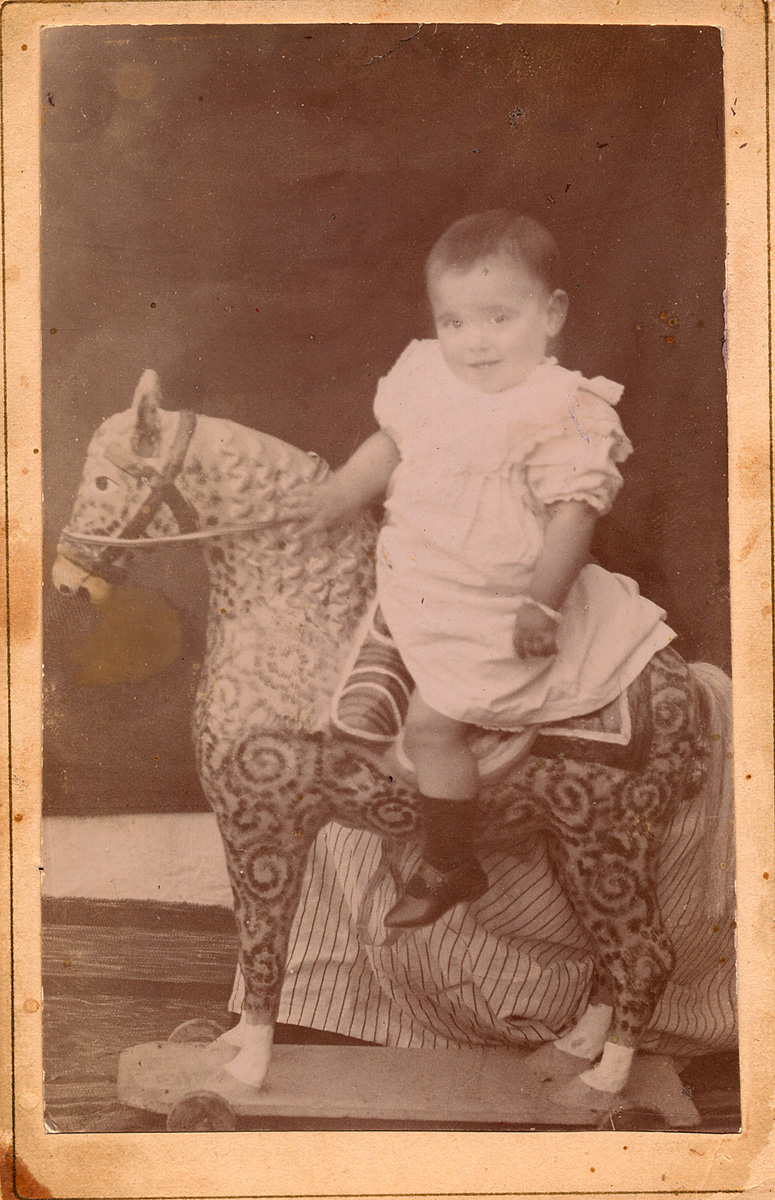 In 1928, in an interview by Ernesto Giménez Caballero published in La Gaceta Literaria, Lorca summarized his early years in Fuente Vaqueros as follows: "My childhood is the obsession of some silverware and some portraits of that other who could have been my mother, Matilde Palacios. My childhood is learning letters and music with my mother, being a rich boy in the village, bossy." Federico entered the village school very early. Thanks to his mother's friendly relations with Antonio Rodríguez Espinosa, the teacher who had succeeded her at the head of the kindergarten school in Fuente Vaqueros. Federico began his schooling at the age of four. Classes were in the morning and the afternoon was reserved for games. The teacher shared many of those afternoon leisure hours with Federico and followed his career as a poet and playwright with undisguised pride.
He was a withdrawn child and did not participate much in games. Carmen Ramos, daughter of the wet nurse who weaned Federico and friend of his childhood days, remembers him like this: "He never went out. Or rather, he only went out to accompany Doña Vicenta, who was very pious, to church, or to go to school with Antonio". His clumsy gait, his slow reflexes (he had flat feet and one leg slightly longer than the other) and the undisguised pride of belonging to a rich family encouraged his sedentary tastes.
His favorite game consisted of saying mass. His other interests were puppets and music. "In the courtyard there was a small wall where he placed an image of the Virgin and some roses taken from the garden. In front of that improvised altar he would make his brother Francisco and me sit," Carmen Ramos says. And once the spectators were seated and he had covered himself with woven fabric gowns, he would officiate the mass on one condition: that the audience would burst into tears during the sermon.
Those theatrical masses in which Federico officiated as actor, director, decorator and scriptwriter persisted as an adult. Manuel Ángeles Ortiz recalls how Federico, in his workshop in Madrid, when he was already living in the Residencia de Estudiantes (Students' Residence), "told us communicoon almost every day". "Wrapped in some old brocades that I had, he would even go so far as to give us communion with pieces of sponge cake." The initial masses in the Fuente Vaqueros house gave way to a less solemn and permanent theater: the puppet theater. A puppet company arrived one year in Fuente Vaqueros and captivated the boy, so much so that he began to produce his own performances. "All of us recognized ourselves in Federico's puppets: my mother, Don Antonio, the servants and me… In the same way we recognized ourselves later in one or another of his plays," explains Carmen Ramos.
A cousin of Federico's, Clotilde García Picossi, revealed to journalist Antonio Ramos Espejo Federico's first appearance on stage when he was just a few years old, in Fuente Vaqueros: "There was a man who liked theater very much; he was the son of an chemist. And he arranged for us to represent The Joy of the Garden. Then, I would take my cousin Federico by the hand. I was eight or ten years old, and Federico, very young, would hold my hand dressed as a gypsy. There was a gypsy girl singing with her babies. It was a theater for fun. We also did The Altar Boy and others… We did the theater in the yard. People could see us even from the rooftops. We already gave sessions for money and everything. In Fuente Vaqueros many people loved the theater".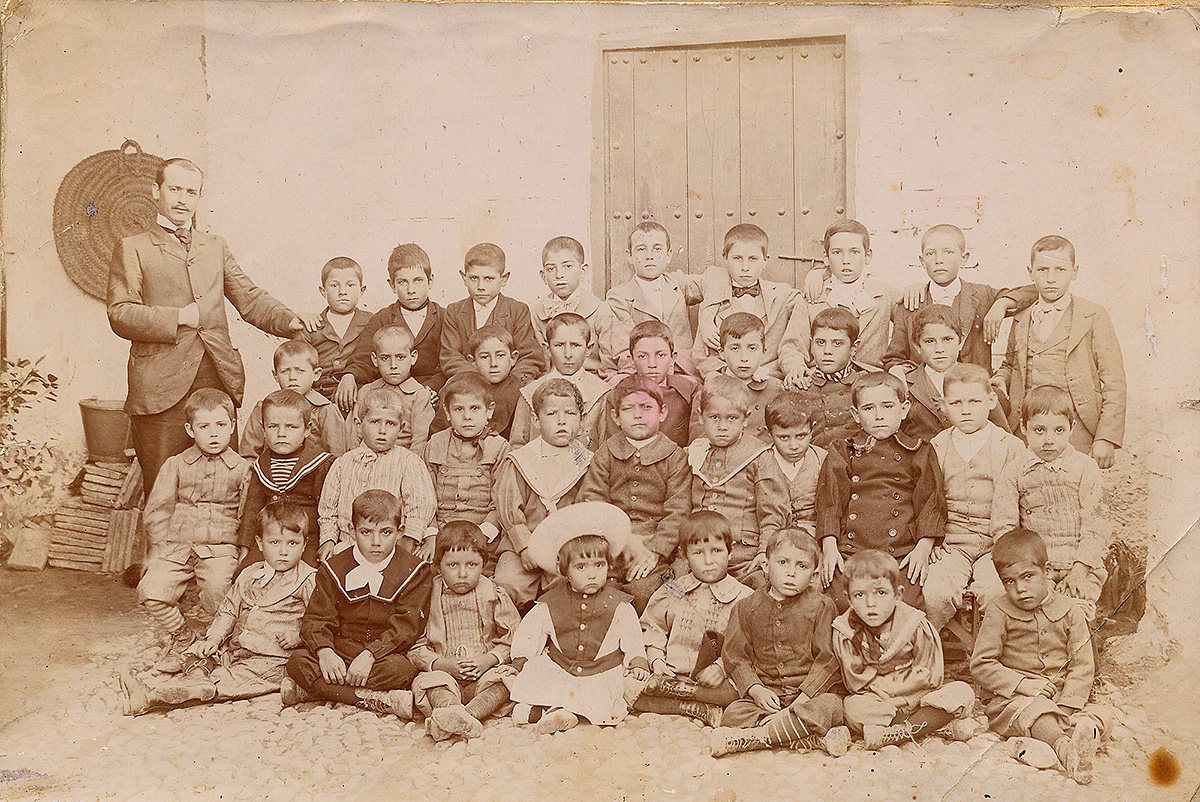 Music was his other great passion. The large García family used to entertain their gatherings by singing and chanting popular songs. In them a good part of Andalusian and flamenco folklore was summarized. By the age of eight Federico knew more than a hundred popular ballads. His contact and learning of cultured music, however, would not occur until the family moved to Granada, in 1908, and the beginning of classes with another memorable character: Antonio Segura Mesa, a notable composer without success who was also the teacher of the composer Ángel Barrios, of the master Francisco Alonso and to whom Federico dedicated Impressions and Landscapes, his first book.
Federico lived at one with nature. He ascribed to each thing, furniture, object, tree, stone, a personality. "He conversed with them and loved them." In the courtyard of the house there was a row of musical poplar trees that seemed to talk to each other when the wind moved their branches.
Reading also occupied an essential place in the child's upbringing. Vicenta Lorca was a great fan of Victor Hugo's novels, which she read aloud and which left obvious traces in Lorca's early work. "From the time he first heard his mother read Victor Hugo aloud until he found a voice seasoned with the Suites and the Poem of the Deep Song, the young writer was searching for himself, wondering about his words as a way of understanding his own identity," writes Luis García Montero in A Reader Called Federico García Lorca. Hugo was later joined by Hesiod, Plato and Shakespeare. And then Ibsen, Maeterlinck and Verlaine. Later came Oscar Wilde, Rubén Darío, Antonio Machado and Juan Ramón Jiménez, who "facilitated an intimate dialogue in which Federico García Lorca found his meaning when writing," according to Luis García Montero in his study.
But the great influence Federico received in those early years was that of the splendid rural landscape of the Vega de Granada and the extension of nature. "Being a child," he declared in 1934 in Buenos Aires, "I lived at one with nature. Like all children, I attributed to each thing, furniture, object, tree, stone, its personality. I conversed with them and loved them". In the courtyard of the house there was a row of musical poplars that seemed to talk to each other when the wind moved their branches. "I used to spend hours accompanying the song of the poplars with my voice. Another day I stopped in amazement. Someone was pronouncing my name, separating the syllables as if spelling: 'Fe… de… de… ri… co'. I looked around and saw no one. However, my name was still ringing in my ears. After listening for a long time, I found the reason. It was the branches of an old poplar tree that were brushing against each other and producing a monotonous, plaintive noise that sounded like my name to me."
In Fuente Vaqueros, Federico, a rich boy, also experienced the feeling of social injustice. In My Little Blonde Friend, included in My Village, Federico recalls the story of a poor family in Fuente Vaqueros and, in particular, of the mother, whom he calls "martyr of life and work". "Many times she would tell me: `Child, tomorrow don't come, because we will wash our clothes…' And I would not go. And I wouldn't go. What tragedies, so deep and so quiet! I couldn't go because they were naked and terrified of cold, washing their rags, the only ones they had. …. That is why when I returned to my house and looked at the closet, loaded with clean and scented clothes, I felt great uneasiness and a cold weight in my heart".
Lorca's relationship with his hometown was never clouded. On the contrary. May 21, 1929. La Fuente, as Fuente Vaqueros is popularly known, paid tribute to him after the premiere in Granada of Mariana Pineda. His brief intervention was precisely about villages and fountains: "A village without a fountain is closed, as if darkened, and each house is a world apart that defends from the neighbor. Fountain is the name of this village. A fountain that has its heart in the source of beneficial water".
Already in full Republic, in 1931, during the first days of September, Lorca read in his town the Allocution to Fuente Vaqueros on the occasion of the inauguration of the library. The allocution is a continuous praise of his town and a "modest and small lesson" about the "work it has cost mankind to get to make books to put them in all hands". In it Lorca explains to his countrymen that "when in Madrid or elsewhere they ask me the place of my birth, in journalistic surveys or anywhere, I say that I was born in Fuente Vaqueros, so that the glory or the fame that has to do with me falls also on this very nice, very modern, on this playful and liberal people of the Fountain". The Allocution also contains statements full of social commitment: "I, if I were hungry and helpless in the street, I would not ask for a loaf of bread but for half a loaf and a book. And from here I violently attack those who only talk about economic demands without ever mentioning cultural ones".
A large part of the Vega de Granada belonged to Soto de Roma, a vast estate that the National Defense Boards gave at the beginning of the 19th century to the Duke of Wellington for the help given to Spain against the Napoleonic invasion.
Although the Duke did not give very much attention to the Soto, his heirs sent proxies and administrators to extract all the possible benefit from those lands. The English, as they were known in the Vega, found with great joy that they were fertile and magnificent lands and the Soto de Roma became the fertile heart of the Vega.
A multitude of villages were built on the lands of the duchy: Fuente Vaqueros, Romilla, Chauchina, Asquerosa (Disgusting) or Zujaira. The beet industry added a new economic attraction. The English, however, soon lost interest in those lands and the paradoxical Spanish settlers gradually acquired the farms where they worked at moderate prices, so that the duchy became a gigantic puzzle composed of hundreds of small farms.
Small and large fortunes, such as that of Federico García Rodríguez, a native of that area. Tobacco growing was the other great attraction of the Vega de Granada, which was filled with the characteristic drying sheds that still exist today, scattered throughout the farms.
Among the descriptions that Federico left of his Fuente Vaqueros is The Quiet Village, a lyrical and sensitive summary of all the sensations of his childhood: "The village consists of a large square lined with benches and poplars and several dark and scary alleys in which winter places ghosts and marimantas (shapeless beings). The square is elongated and on one side is the church with its frieze of nests and hornets' nests. At the door there is a wooden cross with a lantern covered with cobwebs near laurels and vines, and crowning the façade is the Virgin of the Paridas (Virgin of Postpartum Women) with her children in her arms, eaten away by humidity and loaded with votive offerings and medals (…) In front of the church is the house where I was born. It is big, heavy, majestic in its old age… When I was a child, my little friends and I played on them with an iron bar and its sound drove us crazy with joy and we pretended to play fire, death and christenings…"
The parish church of Fuente Vaqueros, located a few meters from the house where Federico was born, to which he accompanies his mother to religious services and where he was baptized, is not the original one. It was destroyed by a fire, which caused its collapse, in the nineteen fifties. The image of the Virgen de las Paridas (Virgen of Postpartum Women)"with a child in her arms, eaten away by humidity and loaded with votive offerings and medals", which crowned the doorway, and which Federico recalls in The Quiet Village also disappeared. Nor is there the nice image of the Virgen del Amor Hermoso (Virgin of Beautiful Love) evoked by the poet. The only original element of the church is the baptismal font, where Federico was baptized six days after his birth.
Lorca always remained attached to his childhood memories, which marked him very deeply. In an interview published in the Madrid newspaper La voz on February 18, 1935 signed by Ángel Lázaro, Proel, he says: "I love simplicity in everything. I learned this way of being simple in my childhood, back in the village. Because I was not born in Granada, but in a village called Fuente Vaqueros (…). It was the year nineteen hundred. All my childhood is my village. Shepherds, fields, sky, solitude. Simplicity, in short. I am very surprised when they think that those things in my works are my daring, the audacity of a poet. No. They are authentic details, which seem strange to many people because it is also strange to approach life with this attitude so simple and so little practiced: to see and hear. Such an easy thing to do, eh?
His childhood memories, the direct testimony that preserves the memory, is not enough by itself, but requires a literary reconstruction. In the same interview the poet boasts of having a huge archive of memories that are equivalent to "poetic memory". "I can be contemplating a mountain range for a quarter of an hour, but then I run to talk to the shepherd or the woodcutter of that range. Then, when writing, I remember these dialogues and the authentic popular expression emerges. I have a large archive in my childhood memories of hearing people speak. It is poetic memory and I stick to it".
One of the most decisive influences in Federico's childhood was that of his teacher Antonio Rodríguez Espinosa, born in Las Gabias, Granada, in 1876. He instilled in him a taste for poetry, helped him to study music, motivated his love of theater and accompanied him to Almería where he passed his entrance exam that allowed him to begin his baccalaureate studies, already in Granada, at the Instituto General Técnico.
He was one of the first Krausist teachers who implanted his pedagogy in Granada and as a true humanist he was also a poet, columnist and theorist of the New School that the Free Teaching Institution developed in our country.
Rodríguez Espinosa was transferred from the Fuente Vaqueros school to Almería in 1903. In 1908, he took a group of students with him to Almería, among them Federico, with the intention that they would begin their high school studies in that city. An untimely phlegm that disfigured Federico's face and caused a serious infection interrupted the plans and the boy, at the age of ten, had to return to Granada after passing the entrance exams.
Before becoming a teacher, Rodríguez Espinosa was, according to Claude Couffon, "a former village shoemaker driven by a passion for study". When he was transferred to Madrid, he followed his pupil's premieres. But Don Antonio was so excited that he could not cross the threshold of the theater and remained, trembling, in the streets until the performance was over.
When I was a child I lived in a very quiet and fragrant village in the fertile valley of Granada. Everything that happened there and all its feelings pass through me today, veiled by the nostalgia of childhood and by time. I want to say what I felt about his life and his legends. I want to express what passed through me through another temperament, I long to refer the distant modulations of my other heart. What I do is pure sentiment and a vague memory of my crystal soul…
All the figures that parade through these tasteless leaves, some will have died, others are already transformed and the people is another completely different one…
The monster of politics has taken away its virginity and its light. In that town I was born and my heart was awakened. In that town I had my first dream of distant lands. In that town I will be land and flowers…
Its streets, its people, its customs, its poetry and its wickedness will be like the scaffolding where my childish ideas will nest in the crucible of puberty. Listen…"
(My Village)
Marcelle Auclair. Life and Death of García Lorca. Era. Mexico 1972.
Claude Couffon. Granada and García Lorca. Losada. Buenos Aires, 1967.
Federico García Lorca. Word of Lorca. Complete Statements and Interviews. Edited by Rafael Inglada and Víctor Fernández. Malpaso. Barcelona, 2017.
Federico García Lorca. Poems of the Vega. Selection by Javier Alonso Magaz, Luis García Montero and Andrea Villarrubia. Galaxia Gutenberg. Barcelona, 2014.
Francisco García Lorca. Federico and his World. Alianza Tres. Madrid, 1990.
Isabel García Lorca. My Memories. Tusquets. Barcelona, 2002.
Luis García Montero. A reader called Federico García Lorca. Taurus. Madrid, 2016.
Ian Gibson. From Fuente Vaqueros to New York. Grijalbo. Barcelona, 1985.
José Mora Guarnido. Federico García Lorca and his World. Losada. Buenos Aires, 1958.
Antonio Ramos Espejo. García Lorca in Fuente Vaqueros. FGL Birthplace Museum, Fuente Vaqueros, Granada, 1986.
Lorca´s location

The house where Lorca was born in Fuente Vaqueros

current location

FGL Birthplace Museum in Fuente Vaqueros

ADDRESS

García Lorca, 4

Web

Telephone

958 516 453

Email

DETAILS OF THE VISIT

Group and individual visits are always guided, starting at the scheduled time.

Group visits must be booked by telephone or email well in advance, in order to facilitate access to the museum.

Please, check the museum website for information on opening hours.