House in Valderrubio of Francisca Alba and her daughters, who inspired Lorca for The House of Bernarda Alba. Since December 2018 it has been a house-museum.
The house where Francisca Alba Sierra, Fraquista Alba, lived with her family and where Lorca was inspired for his famous tragedy The House of Bernarda Alba, premiered in 1945 in Buenos Aires by the company of Margarita Xirgu, is located on Real Street (formerly Ancha Street) in Valderrubio and has been weighed down by the taboo of fiction and truth for many decades. The property was converted into a museum in December 2018.
It was through the well of this house, shared with the home of one of Federico's aunts, that the poet learned about what the Alba family did and said.
As described Isabel García Lorca in My Memories, it was a large house, with a courtyard that separated the house from the corral, the stables, the henhouse and a shed, which there were called "tinaos", where farm implements were kept. The house was very similar to how Federico describes it in the play's annotations, but literary invention has blurred the real characters and added characteristics that were only in the author's imagination.
The real Frasquita Alba used to visit the García Rodríguez family when they came to the village in summer. She did not have the dryness of the fictitious character of Bernarda, she was very feminine and not at all stuffy. She also liked to talk, although she always took advantage of the occasion to complain about one person or anther. This earned her a certain reputation as relentless and domineering. She lived with her second husband and her children. The widowhood of Bernarda and the fact that in the house there were only women were contributions of the playwright.
Frasquita Alba's house had a well shared with the home of one of Federico's aunts, Matilde García Rodríguez. From the well they could see and hear those on the other side. It was through this aunt that Federico and his family learned what was going on and what they were talking about at the Alba's house. But not everything that appears in Federico's drama has the same source. The rigorous mourning comes from a relative named Paca Mazuecos, whose house, after the death of her daughter, was completely in mourning, in rigorous black, with headscarves, without flowers in the patio because they were colored, black curtains on the windows, on the skirt of the table…
The germ of the Lorca tragedy, which begins with a burial and ends with a suicide, is partly authentic. One of the daughters of Frasquita Alba (Martirio in Federico's work and in reality) suffered from fevers of unknown origin. Isabel García Lorca remembers seeing her sitting in a rocking chair with the white habit of the Virgin of Lourdes, two enormous black braids and eyes full of terror and suffering.
Pepe el Romano or Pepico el de Roma (those from the nearby village of Romilla were called "Romans") married one of Frasquista's daughters but died early. When Martirio recovered she married his brother-in-law. The full name of Pepe el Romano was José Benavides Peña who later participated in the shooting of the poet.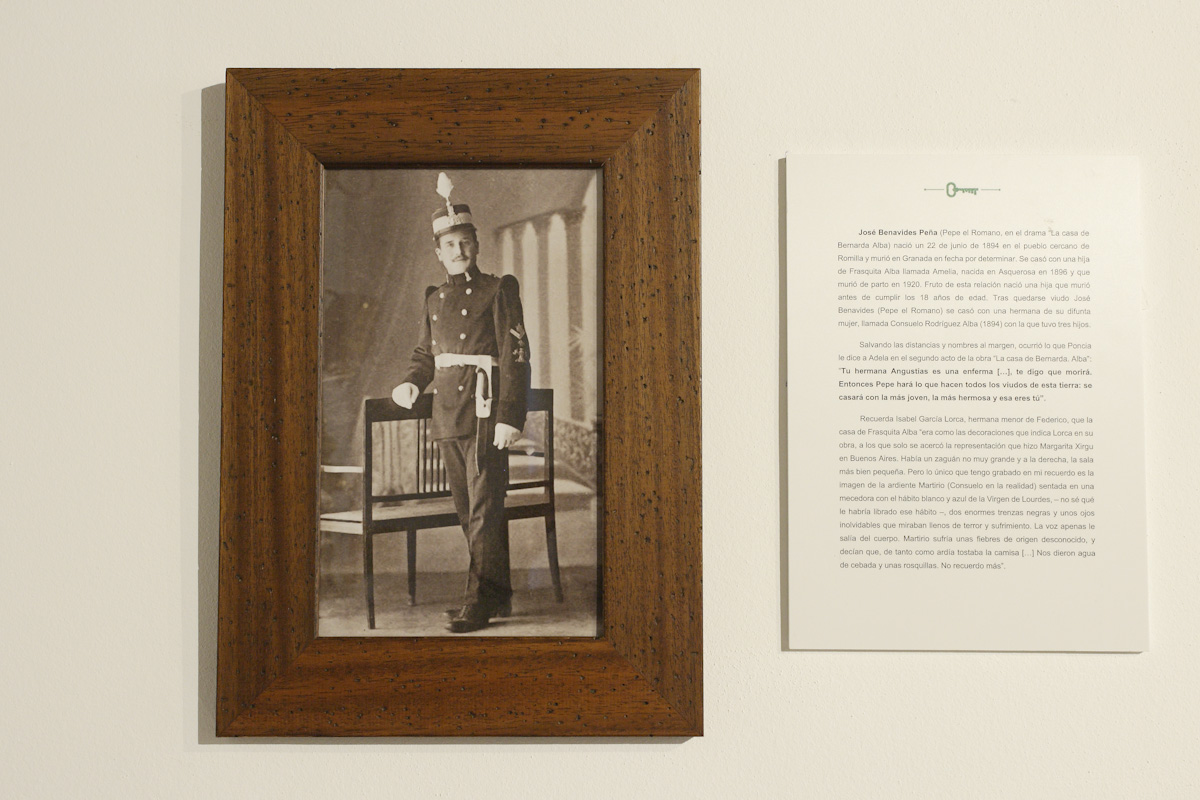 Adela, another of the characters, was an invention of Lorca and does not correspond to any of Frasquita Alba's daughters, although there are details of the character that can be traced in real anecdotes. The scene in which Adela, burdened by rigorous mourning, exhibits her green dress before the hens is inspired by one of the poet's cousin, Clotilde García Picossi, owner of the Huerta del Tamarit, almost next to that of San Vicente, who decided to debut her new dress in the henhouse, because the mourning imposed on her family did not allow her to do it in the street.
Grandmother Josefa is a character, according to Isabel García Lorca, that is based on three people: her great-grandmother, called the blonde grandmother; a grandmother of her cousins who wanted to run away to the seashore to find a boyfriend and have a child, and a retarded cousin who covered herself with brooches and necklaces given to her.
La Poncia owes her name to the real maid of some neighbors of Valderrubio, but her character and way of speaking are inspired by other maids and the popular speech of the area. Prudencia Roldán was the younger sister of the rich man of the village (this family did not get along well with her father, Federico García Rodríguez). She is the inspiration for the character who comes to visit in the third act.
Frasquita Alba died on July 22, 1924 at the age of 66. Isabel remembers seeing her in her coffin between four candles. She is buried in the Valderrubio cemetery. Her tombstone disappeared in recent years.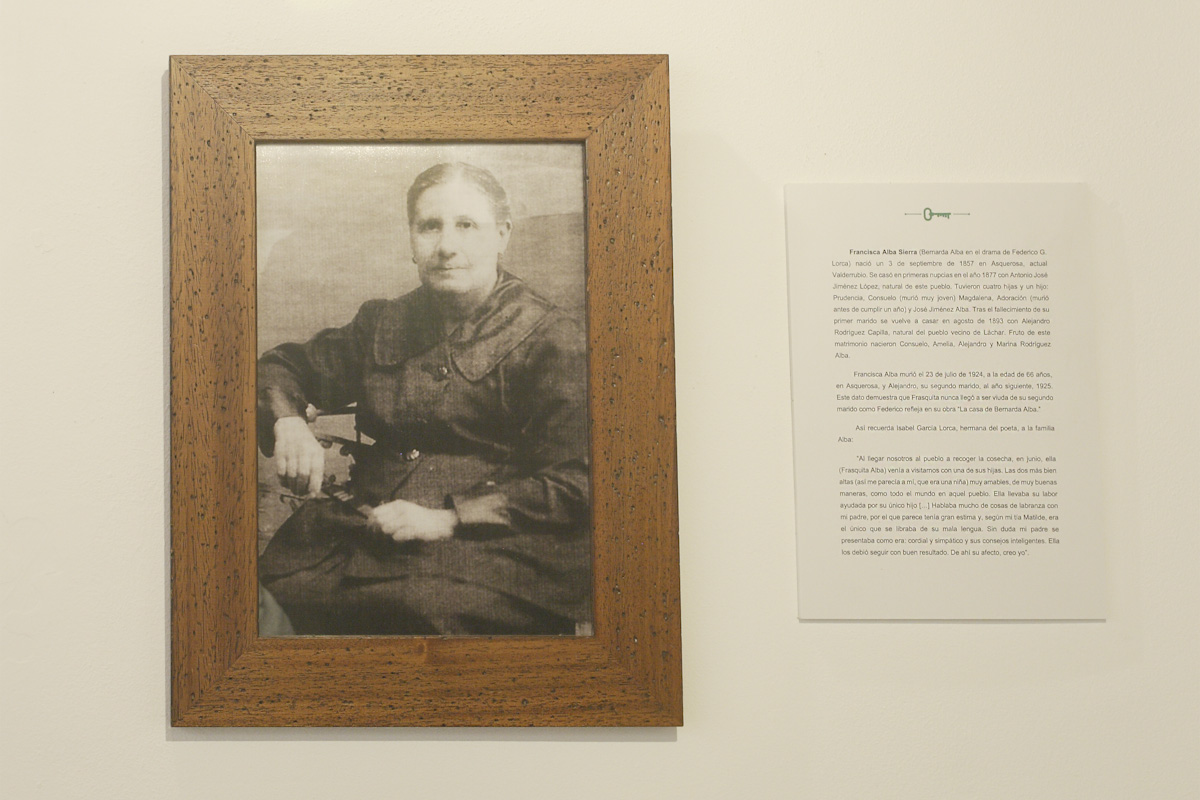 A relative of the real-life Pepe El Romano, Antonio Benavides Benavides, married to a sister of Federico García Rodríguez's first wife, allegedly participated as Federico's executioner.
Conversation with Carlos Morla Lynch.
"Not far from Granada, there is a hamlet where my parents owned a small property. In the neighboring house and adjacent to ours lived a very old widow who exercised an inexorable and tyrannical vigilance over her unmarried daughters. Prisoners deprived of all free will, I never spoke to them, but watched them pass like shadows, always silent and always dressed in black. Now, there was a well at the edge of the courtyard, without water, and I went down to it to spy on that strange family whose enigmatic attitudes intrigued me. And I was able to observe them. It was a mute and cold hell in that African sun, a sepulcher of living people under an inflexible ferule of a dark carcinogen. And this gave rise to The House of Bernarda Alba, in which the kidnapped women are Andalusian, but as you say, they have perhaps a coloring of ochre lands more in keeping with the women of Castile".
(Lorca's Version)
Carlos Morla Lynch. In Spain with Federico García Lorca. Renacimiento. Seville 2008.
Isabel García Lorca. My Memories. Tusquets. Barcelona, 2002.
Miguel Caballero and Pilar Góngora. The Truth about the Murder of García Lorca. History of a Family. Ibersaf. Madrid, 2007.
Lorca´s location

House of Frasquita Alba

current location

Museum House of Bernarda Alba

ADDRESS

Real, 1

Web

Telephone

958 454 217

Email

DETAILS OF THE VISIT

The visit to the House of Bernarda Alba must be arranged by appointment. Please, check its website for opening dates.

There is the possibility of arranging a dramatized visit.