Argentinean dramatic actress and singer. Daughter of immigrants, she met Federico García Lorca in 1931. She was his introducer in Uruguay and Buenos Aires and one of the most important interpreters of his work.
Her parents were from Cádiz and emigrated to Buenos Aires. However, it was in Spain where she began to perform at a very young age, at first as a singer. She made her debut at the Apolo Theater in Madrid in 1904. In 1920, she created her own company in Argentina. Her tours in Spain and Latin America were triumphant. Many playwrights of the early twentieth century wrote roles for her (the Álvarez Quintero brothers, the Machado brothers, Benavente…). Her career also encompasses the classics.
She was one of the most important performers, along with Margarita Xirgu, of Federico García Lorca's plays. She was married to the theater stage manager Juan Reforzo. It is not known when she met Federico, but in 1931 there was already a friendship between them. She toured with him through Latin America.
Blood Wedding was premiered on March 23, 1933 at the Beatriz Theater in Madrid with the company of Josefina Díaz Artigas and directed by Eduardo Marquina and García Lorca himself. However, its international success did not occur until July 29 when the actress Lola Membrives takes it to the stage at the Maipo Theater in Buenos Aires. The success is so immediate and overwhelming that, when the performances conclude, she is forced to stage it at the Avenida Theater, in the same city.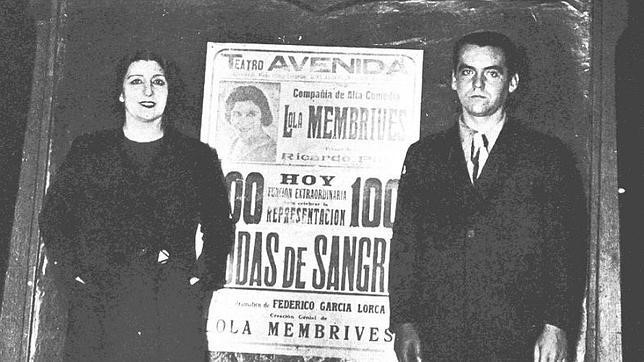 Membrives requests Lorca's presence in Argentina so that he can see for himself the success of his work and the popularity he has achieved as a playwright in Buenos Aires. Said and done: On October 14, Federico arrives in Buenos Aires and then, following in the wake of his recognition, he travels to Montevideo, Rosario and Cordoba. The play is revived in Buenos Aires where it reaches 150 performances. Lola Membrives takes advantage of the massive fascination with Blood Wedding to also premiere in Buenos Aires The Shoemaker's Prodigious Wife in December 1934, a more complete version than the one Margarita Xirgu had performed in Spain in 1930. It was another memorable success, followed by more than 50 performances. She later reprised both plays in Spain. Lorca, overwhelmed, writes to his family: "Look at the huge uproar it caused in Buenos Aires. You will receive a letter by plane. I do not stop for a moment with meals, visits, meetings with these hospitable people". The stay was extended until March 1934.
During the Civil War Membrives remained away from the Spanish scene, working in Argentina. She made some incursion into the cinema. From 1939, she returned repeatedly to Spain, premiered the last plays of Benavente and promoted plays by Argentine authors. From 1943, she managed the Teatro Cómico, on Corrientes Avenue, where she premiered his plays during the following years. Later the theater was to be called Lola Membrives.
She received the Medal of the Nation "for artistic merit", awarded by Argentine President Juan Domingo Perón in 1954. Her last performance was at the Odeon Theater in Buenos Aires. From 1964 onwards, she devoted herself to teaching theater. She died on October 31, 1969, in Buenos Aires. The last play she performed was The Green Fields of Eden by Antonio Gala.