A prolific writer, stage designer, scriptwriter, film director and above all stage manager, he was born in Madrid on May 6, 1881 and died in the same city on October 1, 1947. He promoted Modernism through the magazines Helios and Renacimiento. Author of a very extensive range of literature covering almost all genres: dramatic works such as The Shadow of the Father (1909), Lullaby (a 1911 piece that has known two film versions, one in Hollywood in 1933 and another signed by José Luis Garci in 1994); Only for Women (1913), or The Kingdom of God (1916); essays such as The Sadness of Don Quixote; poetic books such as Poem of Work, Flowers of Frost, Hamlet and the Body of Sarah Bernhardt or The House of Spring. As a novelist he published, among others, Flowering Easter, Afternoon Sun or The Humble Truth, as well as the travel book Granada, Emotional Guide. He was also no stranger to the lyric genre (The Swallows and The Flame) and signed musical scripts with music by Manuel de Falla (The Bewitched Love and The Magistrate and the Miller's Wife).
Although Martínez Sierra took credit for all the abundant literary output he signed, much, or almost all, of his work was actually written by his wife and collaborator, the writer and feminist María de la O Lejárraga (1871-1974), who also signed under the pseudonym María Martínez Sierra after Gregorio's death.
Much of the drama produced can also be attributed to María Lejárraga. They created several magazines and founded the Editorial Renacimiento which published works by the major Spanish writers of the Silver Age between 1908 and 1918.
Lejárraga was closely linked to Granada: in 1933, she was elected deputy for the Socialist Party to the Congress of the Republic for this province. The publication in 1953 in Mexico of Gregorio and I. Half a Century of Collaboration revealed not only that both were in fact the authors of the works attributed to Martínez Sierra, but also the impossibility of delimiting the work contributed by each.
Martínez Sierra, of poor health and always haunted, as an adult, by tuberculosis and typhoid fever, was educated in private schools typical of bourgeois and Catholic families, but at only 17 his life project changed when he met María Lejárraja, a 24-year-old girl from La Rioja, intelligent, daring and full of advanced ideas. Two years later, in 1919, they married and began one of the most surprising and mysterious collaborative intellectual endeavors in the history of Spanish theater and literature. Theoretically, the husband opted for production while the wife did not stop writing plays for him. Researchers, however, have not been able to delimit the contribution of each.
Apart from literary production, the most important project they undertook was the creation of the Theater Workshop at the Eslava Theater in Madrid. Between 1916 and 1926, they staged 125 plays and shows, thanks to which plays by Barnard Shaw, J. M. Barrié or Roberto Sabatino, plus Goldoni, Molière or Dumas were seen in Spain for the first time. Among the new authors were García Lorca, Concha Espina, Jacinto Grau and Alberto Insúa. There was also theater for children. The Teatro del Arte renewed the scenography (Barradas and Fontanals) and was surrounded by a group of collaborators and musicians such as Manuel de Falla, Conrado del Campo and Pablo Luna.
Lejárraga was closely linked to Granada: in 1933, she was elected deputy for the Socialist Party to the Congress of the Republic for this province.
The relationship between the couple was not even broken (neither literary nor economically) when Martínez Sierra left Lejárraga for the Cuban actress Catalina Bárcena, who had joined the Art Theater and starred in the premiere of Lorca's The Butterfly's Evil Spell. Even after Gregorio's death, María revealed the literary partnership they had kept secret, referring to him as "my partner" or "my husband" and adopting his surname. According to Antonina Rodrigo, Lejárraga's biographer, "the true motivation for her total surrender and renunciation in favor of Gregorio was love".
The Martínez Sierra family was also tempted by the Hollywood film industry. Several of their comedies were made into films in the 1930s: I, You and She, directed by Max Reinhardt and based on Woman; the aforementioned Lullaby directed by Mitchell Leisen: Springtime in the Fall by director Eugene Ford; A Romantic Widow, directed by Louis King, based on An August Night's Dream; Julietta Buys a Son, written with Honorio Maura Gamazo, directed in 1935 again by Louis King.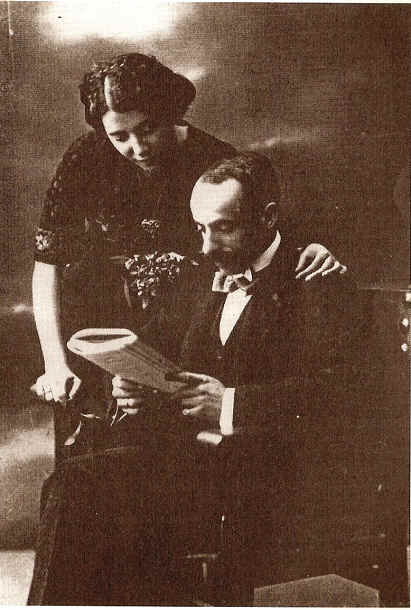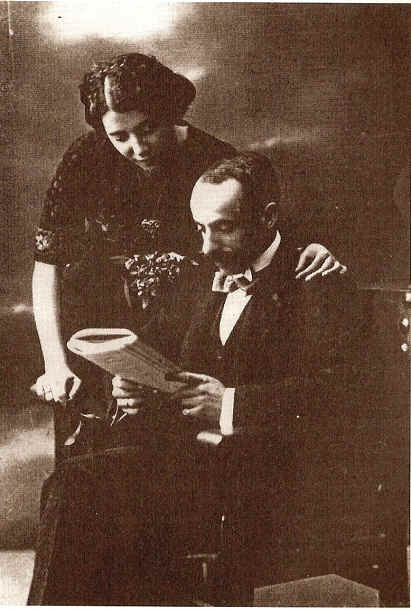 The Civil War dispersed the writing couple outside Spain. Martínez Sierra took refuge in Argentina with Catalina Bárcena and returned to Spain shortly before his death. He died surrounded by the papers of his next theatrical campaign. María Lejárraga, who had assumed a more political commitment, held several diplomatic posts on behalf of the Republic during the conflict. Her long exile included France, Mexico and Argentina. She continued to write until her death, at almost one hundred years old.
The controversy, however, had not stopped. A letter from María written to her brother Alejandro in 1948 contains the following statement: "That I am a collaborator of all the works there is not the slightest doubt, first because it is so, and then because it is accredited by the document voluntarily signed by Gregorio in the presence of witnesses who are still living and which expressly states: `I declare for all legal purposes that all my works are written in collaboration with my wife, Doña María de la O Lejárraga y García. And for the record I sign this in Madrid on the fourteenth day of April, nineteen hundred and thirty".